Products from Ernesto Catena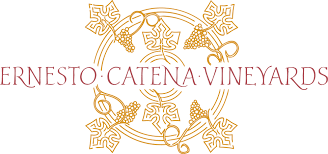 Bodega Ernesto Catena – Vista Flores -Mendoza
Als Ernesto Catena (Winzer in 4. Generation – Teil einer der traditionsreichsten Weinfamilien Argentiniens – lebt und reist um die Welt seit vielen Jahren – Bachelor in Informatik und Wirtschaft, Master in Design in Mailand und ein Diplom in Geschichte in London – leidenschaftlich für Tiere und Natur – unermüdlicher Leser, Maler, Kunstsammler: "ein Zuschauer der Schönheit, tot oder lebendig") Präsident eines der größten argentinischen Weingüter war, fühlte Ernesto die Notwendigkeit eines "Paradigmenwechsel " und entschied unter 3 Punkten in neuen Räumlichkeiten die Herstellung von kleinen Volumen von Weinen zu starten:
Fokus auf hohe Qualität der Trauben, aus welchen natürlicher Most entsteht.
Suche nach einem anderen Stil in den Weinen, die seine Persönlichkeit widerspiegeln.
Erstellen von sehr starken Markenkonzepten, in der sich die Verbraucher mitfühlend identifizieren können.
Es entstand die "Finca Nakbe" in Vista Flores – Mendoza. Ein Garten für Flora und Fauna. Die Malbec-Rebstöcke sind als Labyrinth angepflanzt. Es gibt einen Poloplatz, einen Rosengarten und einen alten Tennisplatz im Stil der Inkas. Die meisten Trauben für seine Weine entstammen hieraus.
Die Weine Alma Negra, die wir führen, zeigen die "mystische Seite" von Ernesto Catena.
Die Mischungen sind alle "El Misterio" (niemand erfährt, was enthalten ist). Ernesto Catena gibt Anweisungen an die Önologen. Er will Weine, die nur ohne Vorurteile genossen werden sollten. Rebsorte und Eichenalterung haben keine Bedeutung. Alles was zählt, ist, dass der Wein Freude bereitet. Großer Einfluss von "Bonarda" in allen Verschnitten. Ernesto Catena betrachtet Bonarda als Argentiniens nächsten Malbec. Der Bonarda ist ein großer Wein für Verschnitte durch seine Fruchtigkeit und Persönlichkeit.
No results were found for the filter!

PADRILLOS Malbec Rotwein | Argentinien
Imagine a herd of wild stallions galloping over smooth white hills, their black coats reflecting the light of the moon. This very image lived inside winemaker Ernesto Catena´s mind, and kept his primal attachment to land and nature alive...
Content
0.75 Liter
(€25.87 * / 1 Liter)

ALMA NEGRA | BLEND 2013 | Ernesto Catena
Es war schon immer ein Geheimnis hinter einer Maske. Das verführerische Spiel zu entdecken, wer dahinter ist, wird auch heute noch in Parties, Ritualen und im Leben gefeiert. Als Hommage an diese Tradition bieten wir Ihnen diesen Wein....
Content
0.75 Liter
(€38.87 * / 1 Liter)