Products from Havanna

Der Bäcker Elíades Sisterna und Luis Sbaraglini haben in 1940 das erste alfajor (namens Alfajores Santa Mónica) in Buenos Aires gebacken. Später traf Sisterna der eigentümer des Havanna Cafes, Demetrio Elíades, in Mar Del Plata. Havanna wurde in 1948 von Benjamín Sisterna, Demetrio Elíades and Luis Sbaraglini gegründet.
Ihre Alfajores wurden eine der Hauptattraktionen von Mar Del Plata, sehr beliebt unter Touristen. Danach wurden sie ein Emblem Produkt Argentiniens.
In 1998 wurde Havanna von einer lokalen Firma namens "Exell Group" gekauft um dann in 2003 von einer privat Investition Firma namens "Group DyG".
Havanna hat die Alfajores Industrie revolutioniert und weltweit bekannt gemacht.
No results were found for the filter!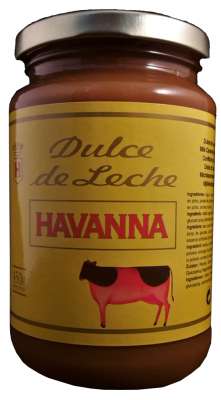 Dulce de Leche HAVANNA - Milchkaramellcreme - 450g
Dulce de Leche HAVANNA ist eine sehr traditionelle Milchkaramellcreme weit verbreitet in Lateinamerika. Dulce de Leche kann als Brotaufstrich, als Topping für Dessert, zum Backen oder einfach so genießen werden. Zutaten: Wasser, Zucker,...
Content
0.45 Kg
(€13.31 * / 1 Kg)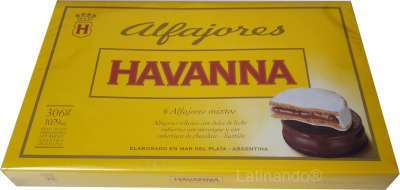 Alfajores HAVANNA Argentina | Mixtos 6er Packung
Alfajores HAVANNA Argentina Alfajores bestehen aus zwei Cookies mit einer Füllung aus Havanna Dulce de leche. Packungsinhalt: 3 Alfajores unmantelt mit Baisier (Merengue) 3 Alfajores unmantelt mit dunkler Schokolade (Chocolate) ​...
Content
0.285 Kg
(€35.05 * / 1 Kg)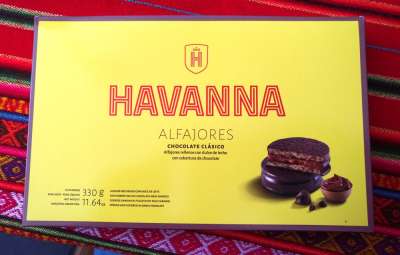 Alfajores HAVANNA - Chocolate Clasico - 6 Stk
Diese Packung beinhaltet 6 Stk. CHOCOLATE. Havanna Alfajores - Schokolade: der klassische Havanna... zwei Cookies mit köstlichen Havanna Dulce de leche gefüllt und mit dem reinsten bittersüße Schokolade überzogen. Nettogewicht: 330g...
Content
0.33 Kg
(€30.27 * / 1 Kg)